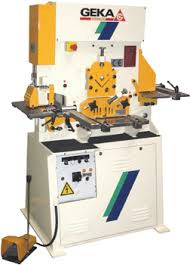 MINICROP and MICROCROP
Models MINICROP and MICROCROP with capacities of 40 and 50 ton punch and up to 3″ x 3″ x 5/16″ angle. Featuring: Easy stroke adjustment; adjustable swing away stripper; quick change punch holder and jog switch.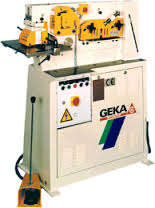 Bendicrop
Model BENDICROP with punching capacity of 50 tons and 3″ x 3″ x 5/16″ angle shear. Featuring: Vertical slide with 5 workstations including an integrated Press Brake station and a fully structural die block. Ideal machine for ornamental and miscellaneous fabricators! Optional integrated blades available for shearing cap rail, small channels, and square bar.