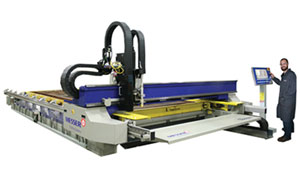 MetalMaster Excel
The MetalMaster Xcel features state-of-the-art industry leading traversing speeds of 3000 IPM, robust design, high acceleration drives, along with multi-tool capability including plasma beveling, oxyfuel, combination plasma / fiber laser cutting and drilling coupled with OmniWin software.
The MetalMaster Xcel is two machines in one. Using a plasma / fiber laser combination cut on the same piece part will increase productivity by allowing critical internal features to be cut with the fiber laser and external features to be cut with the plasma torch all without moving the part to another piece of equipment.
The revolutionary MetalMaster Xcel not only features state-of-the-art industry leading speed, it also has multiple customizable features allowing maximum performance and versatility. Precision plasma and fiber laser option in conjunction with smooth axes drives creates the finest cut part edge quality. Optional features include drilling, marking, material handling featuring table shuttle system and enclosure combined with it's rugged construction leads to long-term durability.
Features and Benefits
6′, 8′, 10′ up to 50′ Heavy-duty Zone Ducted Slagger Table: Three inch plate capacity.  Removable slat frames for flexibility during removal.
Global Control Plus with Virtual Service: Featuring an embedded cutting database producing repeatable performance day to day and operator to operator
8.4  and 4.7 HP Brushless AC Drives:  Providing electronic armature commutation eliminating brushes, tune ups and feedback belts. High acceleration/deceleration rates virtually eliminating corner dross. 3000 IPM traverse speed.
Precision Linear Ways: provide smooth motion and excellent cut quality ways with full capture bearings in both the X and Y-Axis.
Precision Gearboxes: Low backlash and low inertia gearboxes increases small hole cutting performance and surface finish of cut parts.
Rugged High-Compliance Dual Drive Gantry: Stable platform under all conditions. Compliant end truck, low profile, low mass provides the motion stability required for precision plasma.
Metal Master Plus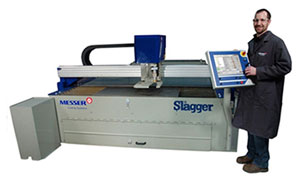 The MetalMaster Plus is a unitized table and gantry cutting machine that utilizes precision plasma processes up to 400 amps.  It produces excellent looking parts for the precision fabrication market. This unitized design incorporates the all-in-one precision high speed cutting gantry and self cleaning table with superior part accuracy and quality.
HPR400 Precision Plasma is suitable for mild steel, stainless steel and aluminum from 26 gauges to 2″ (50.8mm) thick. A side draft exhaust cutting table is included with the machine, which also can be upgraded to a Slagger® self-cleaning table.
Features and Benefits
Machine widths available 6′, 8′ and 10′ (1.8m, 2.4m, 3m)
10′ (3m) machines can expand in 5′ (1.524m) increments to 50′ (15.24)
Machine motion accuracy is an exceptional +/- .002″ (.45mm) over any 6′ X 10′ (1.8m X 3m) area
Positioning speeds up to 1700 ipm
Uses an aluminum beam extrusion for extra stability and support
MPC 2000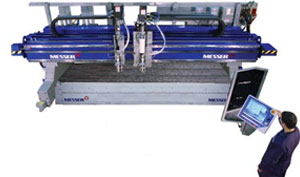 The MPC2000 is a multi-process Messer cutting machine that can be equipped with multiple carriages and up to five separate processes including precision plasma, conventional plasma, oxyfuel, drill and markers, all on one machine. The newly redesigned MPC2000 features newly enhanced linear ways, long-life band drives and larger end trucks. It provides high accuracy, repeatability, and durability.
A total of four separate tool stations may be installed. It is able to deliver clean smooth cut edges and precisely cut holes at very high accuracy and repeatability. The MPC2000 includes linear motion ways and state-of-the-art AC servo drives provide dependable machine tool performance.
The rugged double beam construction makes it tough enough to keep cutting, even through three shifts and offers the strength and stability for maximum accuracy and repeatability.
Features and Benefits
Multi-process cutting machine
Can be equipped with multiple carriages and up to five separate processes
Includes linear motion ways and state-of-the-art AC servo drives
Tool Coverage: Widths from 26′ to 28′ (7.9248m to 8.5344m), Lengths from 6 to 100′ (1.8m to 30m)
Material Thickness Capacity: 26 ga. to 6″ (152m) depending on cutting process used
Materials Processed: Steel, Stainless Steel, or Aluminum
MetalMaster Plus Dual Pallet Shuttle Table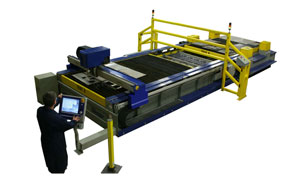 Combines the accurate, efficient and proven cutting capabilities of our MetalMaster Plus machine with an effective and safe means of getting the plate to the cutting area. Included is the Slagger® advanced cutting support table with automatic slag / smoke removal and advanced shuttle table design for performance and reliable operation.
Advantages
Load one plate while another is being cut without causing interruption to cutting
Saves time by creating shortest path for material loading; verses walking an overhead crane back and forth along the length of the table is eliminated
Plate loading and unloading always takes place at one end of the machine and with a common load height
Plate loading and unloading always takes place at one end of the machine and can be performed from three directions
Shuttle table allows the use of a stationary dedicated crane or other workstation cranes for plate loading, saving overhead crane time and allowing it to be used elsewhere
Cutting area of machine can be located in an area without overhead crane access, freeing up floor space under the hook, which is an important consideration at some facilities
Cutting machines with long tables can expose personnel that remove cut parts near the area where the cutting gantry is operating
With the shuttle table, the cutting gantry cannot enter the area where plate loading and unloading operations occur