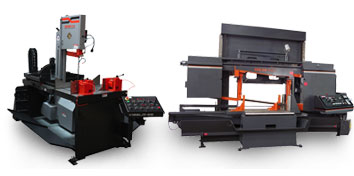 HE&M Saws
For over 40 years HE&M Saw has been the leader in new band saw technology,
setting the standard with more patented innovations than any
other band saw manufacturer in the world.Just look at the wide selection of saws.
Horizontal Pivot Series
Horizontal Miter Series
Vertical Series
Dual Column Series
Wide Flange Series
Utility Saw Series
Plate Saw Series
---

HE&M Double Mitre Saws
The HE&M Double Miter series saws are smaller band saws that are more cost effective than other larger alternatives. These double miter saws are not gravity-fed machines; instead they use a patented hydraulic system for adjusting feed rate and cutting pressure. Movable control consoles and flood coolant systems come standard.
---

HE&M Utility Saws
These tabletop saws are ideal for smaller jobs. They are impressive in their cutting and speed capabilities, saving up to 60% cutting time compared to traditional band saws. Many of these models do not require lubrication. These saws meet the highest standards for quality and are inspected and tested throughout the manufacturing process.
---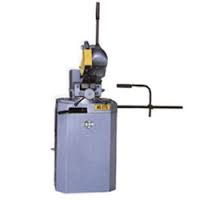 Pat Mooney Saws