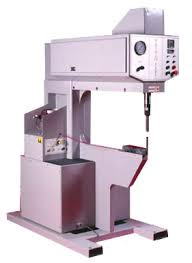 AUTO-SERT'S 20″ Hardware Insertion Machine
The Auto-Sert 20″ hardware insertion machine is a high-powered, versatile machine which provides the flexibility to work with both flat and formed parts of varying sizes. The control panel is located on the front face at eye-level for quick and easy adjustment during operation, and tooling part storage is conveniently placed within the machine itself, eliminating the need for extra shelf and storage space within the shop.
Available in 7.5 and 10 ton capacity.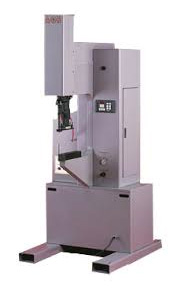 AUTO-SERT'S 36″ Hardware Insertion Machine
The Auto-Sert 36″ Throat Machine offers all the features of the Auto-Sert 20″, and the ability to handle larger applications. It can be easily fitted with a moving brush table to both reduce operator fatigue and improve the overall safety. We think you'll agree that these machines are on the leading edge of technology development in hardware insertion, and are unrivaled in design and quality.
Available in 7.5 and 10 ton capacity.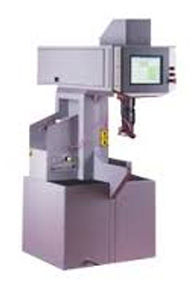 AUTO-SERT'S AOH-5 Air Over Hydraulic Machine
The Auto-Sert AOH-5 air over hydraulic hardware insertion machine is the next innovation from Auto-Sert. The AOH-5 press inserts many sizes of clinch nuts, studs and standoffs manually or automatically. The AOH-5 can use the same tooling (manual or automatic) that you currently use in your Auto-Serts.
The most COMFORTABLE, reliable machine that allows the user a quick change for tooling.
Features and Benefits
Rigid Construction- 2″ thick steel center mainframe.
19″ Throat Depth- Design allows less restriction of movement around ram.
Quick Change Tooling- Minimal tools needed for tooling changes.
Easy Access To Machine Controls- Digital operator interface with preset batch counter, parts counter, ram upstroke timer and air-on timer.
Uniform Pressure by Design- Low air alarm guarantees tonnage repeatability.
Reliable Safety System- Redundant safety system internally monitored by a PLC. Very sensitive pressure sensing device used, 1/4″ window of safety before full tonnage is applied by press in manual operation. Operator can work faster with confidence.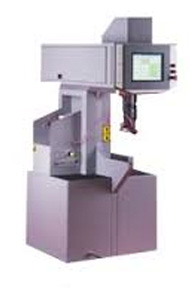 Auto-Sert AS-7.5 Auto-Touch Insertion Press
The AS-7.5 Auto-Touch hardware insertion machine is equipped with a touch screen and software to make your hardware insertion process easier and more reliable. Read more about the features of the AS-7.5 Auto-Touch here.