Michfab has relationships with several High Quality Sheet & Plate Rolling manufacturers. We evaluate your application which will point us in the right direction for your needs.
Eagle Bending Machines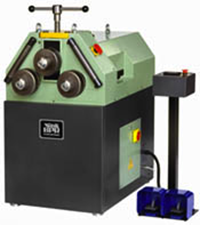 Founded over 23 years ago to provide a higher quality Roll Bender, Faster Deliveries and Superior Service, Eagle proudly maintains its goals. Eagle is 100% American owned and has placed over 7,000 machines in North America. PROOF that their Section Bending Rolls, Profile Benders, CNC Benders and Service are truly valued by the metal fabrication industry. Eagle section Benders incorporate features and superior quality not found on look-alike machines. Contact us to discover why EAGLE Benders provide you years of Profit Producing Performance!.
---
Carrell Corporation
Carell was founded to fill a need for tough, dependable plate rolls, angle rolls, pipe benders, horizontal presses and various other benders. Carell provides the broadest range of bending machines, options and tooling to match any budget and application. Our expanded machine shop can satisfy the growing demand for custom tooling of any complexity.
---
Faccin
Faccin is a specialist in the design, manufacturing and sale of plate bending rolls, profile bending machines, dished head machinery and special machines including ship frame bending rolls and presses and plate straightening machines. Using the latest technology, the company follows the construction of machinery at every stage, from receipt of the order to design by the in-house engineering department, from construction of electro-welded structures to machining of structures and forged rolls up to assembly and shipping.