Michfab Machinery offers hydraulic ironworkers from Kalamazoo Metal Muncher, Geka, Piranha and Edwards. Our hydraulic ironworkers come in a variety of configurations and prices, give us a call at 1-888-MichFab and we will help find the right hydraulic ironworker for your business.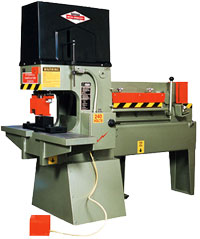 Kalamazoo Metal Muncher Hydraulic Ironworkers
Kalamazoo Metal Muncher's MM Series hydraulic ironworkers give you the features you need, including up to a 3″ ram size, easy to change punch and die holder, and much more. All Kalamazoo Metal Muncher machines are made with over 50 years of excellence in fabrication durability, all in an American-made package.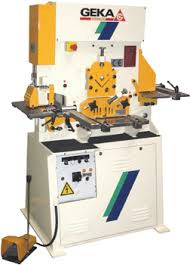 Geka Hydraulic Ironworkers
Single Cylinder Ironworkers — Capacities of 40 and 50 ton punch
and up to 3″x3″x5/16″ angle. Easy stroke adjustment, adjustable swing away stripper, and more!
Dual Cylinder Hydraulic Ironworkers — Hydraulic Ironworkers from 60 to 240 ton punch and 4″x4″x1/2″ to 8″x8″x3/4″ angle. Featuring the most versatile standard equipment package on the market!
Piranha Hydraulic Ironworkers
Piranha Single Operator Ironworkers — are the most versatile line of hydraulic ironworkers in the market today. Built in America for over 25 years, Piranha Single Operator Ironworkers provide six (6) standard workstations
Piranha Dual Operator Ironworkers — offer the advantages of independent punch and shear controls. In other words, one operator can be punching while a second operator is shearing or notching. Piranha Dual Operator models offer five (5) standard workstations

Edwards Hydraulic Ironworkers
Established in 1875, Edwards has been supporting the steel fabrication industry with a full line of high quality, low cost and low maintenance ironworking machines. Long considered the "Swiss Army Knife" of the industry, these do-all machines punch, shear, notch and brake mild steel plate, bar-stock and angle. A wide range of accessories are available to fabricate rod, square stock, sheet metal and pipe. Edwards offers ironworkers with numerous standard features and in tonnages from 25 to 120.