---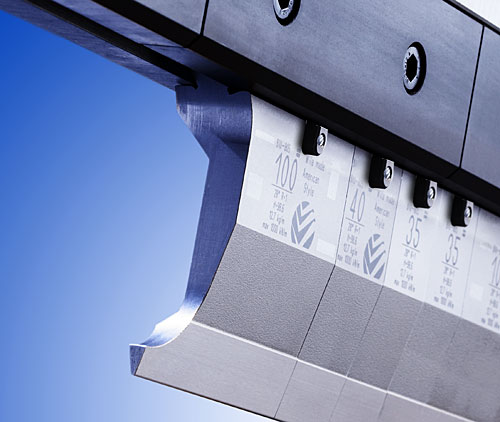 Wila Tooling
Wila offers a complete line of press brake tooling and accessories to reduce press brake setup time and to produce high quality parts.
American Style Tooling — Wila's American Style top tools can be used on all press brakes equipped with an American Style adaptation. This adaptation is almost solely used in North America and is characterized by a centrally-located clamp opening, making it theoretically possible to turn tools around.
New Standard Tooling — Wila has developed its own tooling system in addition to the well known 'European Style' and 'American Style'. This system distinguishes itself by a high degree of accuracy, speed, safety, longevity and flexibility. This unique 'Wila Style' has become the 'New Standard' in the industry
Clamping — With reference to the clamping of its New Standard top tools, Wila now markets its New Standard Clamping I (NSCL I). In continuation of the Universal Press Brake Concept, the program has been expanded to include New Standard Clamping II (NSCL II, for New Standard tools), European Clamping (ECL, for European Style tools) and American Clamping (ACL, for American Style tools). In addition, Custom Made clamping systems (CCL) can also be produced.
Crowning — New Standard Crowning II (NSCR II) was specially developed by Wila within the framework of its Universal Press Brake Concept, as a supplement to and improvement on the existing New Standard Crowing I (NSCR I). At the same time, as part of the Universal Press Brake Concept, a crowning system was developed for situations with American Style clamping and tool systems. In cases in which European Style clamping and tool systems have been opted for, a special clamping table (OB/Eur-1) can be used, which is actually a fixed table without crowning possibilities. Wila also supplies Custom Made crowning systems, types CVB and CVB/D, as well as the centrally-adjustable crowning equipment, type CVB/DZ, developed specifically for folding presses.
---

RiteWay Brake Dies
RBD Press Brake Dies offer you the ultimate in high quality. Made only of premium quality steel, they are manfufactured
with the latest of modern equipment, and to standards far higher than normally required in the industry. This emphasis
on Quality is your assurance that Riteway Brake Dies will give you the maximum on-the-job performance, and
outlast competitively priced press brake dies.
Special Dura-Tuf Alloy Steel
Our steel press brake dies are made of high quality chrome-carbon die steel, heat treated to a
mean of 280 Brinnel (31 Rockwell "C") throughout. With high compressive strengths and wear characteristics,
these pre-hardened dies can be re-machined without annealing before machining and there is no need for hardening afterwards.
---
Fab Supply Tooling
FAB Supply, located in Addison, Illinois, is the first press brake tooling company in North America to achieve ISO 9001:2000 certification. This achievement is evidence of our commitment to total customer service and satisfaction.
Our unique ability to provide our customers with virtually any style and grade of tooling enables us to recommend to and furnish our customers with the best possible solution to their sheet metal forming challenges. Working with tool design engineers both domestically and abroad, we are continually developing innovative designs and products that allow our customers to attain the highest levels of productivity.
Precision Ground American style Tooling
Precision Ground European Style Tooling
Conventional Style Tooling
ROLLA-V — Patented Forming Technology for "Perfect" Bends