Accurpress Press Brakes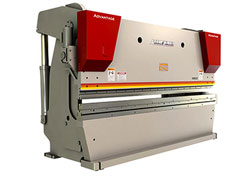 Accurpress Advantage
Rugged design. Intelligent controls. North American made.
The Advantage Rocker Arm has stood the test of time with thousands of machines shipped all over North America. Offered in a wide range of available sizes from 25 tons to 3000 tons.
---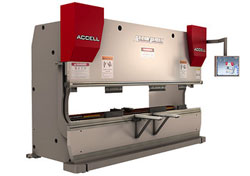 Accurpress Accell E
The Accell E is the complete package. With a high-quality build, an impressive number of features and options, competitive pricing and advanced controls, this is your first choice in Y1/Y2 machine technology.
---

Accurpress Accell U
Accell U: Upgrade Package
The Accell U Upgrade Package builds on the already impressive standard features of the Accell E machine to provide even more functionality and flexibility. This specialized machine can handle any forming challenge or production run with ease.
---

Accurpress Accell H
Hybrid Technology. Available from 60 – 190 Tons
Using a combination of electric and hydraulic drive systems, the Accell Hybrid is impressively quiet, highly efficient and utilizes the latest Accurpress motion technologies.
The Accurpress Accell Hybrid has changed the game with it's revolutionary Moses Control. The Moses control gives you powerful features of vision directly on the Accell Hybrid ram. Use the ram like a touch screen while Moses easily walks you through the bend process.
See the Moses control in action here.
---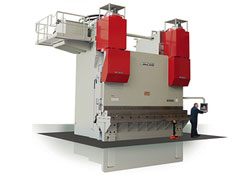 Accurpress Accell HT
High Tonnage. Available from 650 – 3000 Tons
The Accell HT features rugged builds, oversized components and powerful gauging devices. These machines are tough and durable and will stand up to any forming challenge. If you want to bend something big, we've got you covered.
---