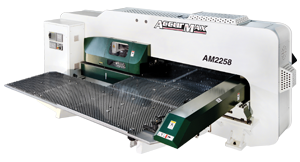 AccurMax CNC Punching Systems
The AccurMax 22 and 33 ton punch press offer a servo motor driven ram and sheet size capacity from 5' x 4' up to 6.5' to 10'
AccurMax 22 ton models are equipped with higher auto indexing and faster punch rates.
The AccurMax features a High Efficiency Servo Drive that allows the operator to set the desired punching speed and positioning of the ram for greater punching and forming control.
The AccurMax is an extremely affordable machine tool, but retains all the high end features, value, and support that you've come to know from Accurpress.
CNC Punch Press Automation
Various forms of Modular Automation are available with the AccurMax Punching System.